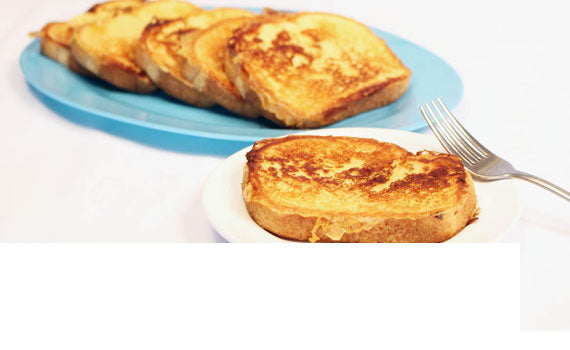 Breakfast. I love it. I really love starting our morning off with a nice, big breakfast. Sunday's around here are known as Pancake Day. It's a nice treat to make something more fun and a little more time consuming for a lazy Sunday morning.
Once in a while I'll make waffles to mix it up a bit. One thing I have always wanted to try for my kids is French toast. There's just something about the thick bread coated in an egg mixture and covered in syrup and powdered sugar that sends my taste buds tingling.
But the problem is, my oldest son is allergic to egg and you can't  just take any egg replacer and make French toast out of it. In fact, when I was first learning about egg substitutions and we started using Ener-G, I asked if we could use that in French toast. My wife laughed a little and said "no."
I've seen recipes trying to circumvent that such as using a banana mixture, but he's not that fond of bananas anymore and I wanted something that was going to be more like real French toast. Enter VeganEgg.
Click here for the main blog post and see the answer to the question of if it tastes as good as it looks!