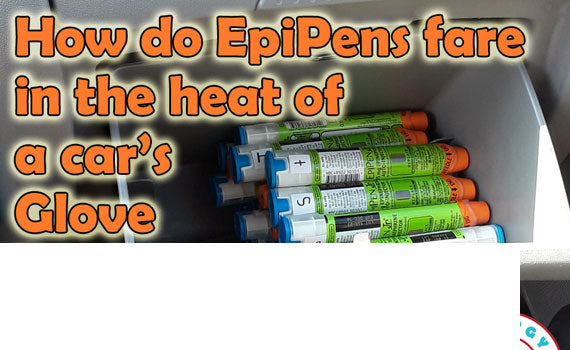 EpiPen Glove Box Heat Experiment
If you read my last EpiPen experiment post, then you saw my discovery that EpiPens heated on the dashboard of a car will fire less than half the time. Temperatures in the 180s and 190s Fahrenheit are clearly enough to damage an EpiPen. But will the heat inside the glove box also damage an EpiPen?
It's impressive that extreme heat compromises EpiPen device integrity. It's also important to know. But most of the time when people leave their epinephrine in the car, they don't leave it on the dashboard, in full sun, and facing south. It is either by accident, or because they store it there.
When someone stores an EpiPen in the heat of a car, they'll typically leave it in the glove box or another compartment. When people leave their EpiPens in a hot car by accident, they usually have it in a purse or bag of some sort. In these situations, the EpiPens would still get very hot, but would not reach the 195 degrees I achieved on the dashboard. So I also did an experiment to see if EpiPens would jam when left in the car under more normal user conditions.
At the same time as my dashboard heat experiment, I had 20 more EpiPens in my car. These were in my glove box. The highest temperature I recorded in my glove box was 137.7 degrees Fahrenheit.
I followed the same protocols with these EpiPens. I had 10 matched pairs to control for user damage prior to them reaching me. One from each pair, I fired while still hot from the car. The other, I fired after allowing it to return to room temperature.
The results of this experiment were . . . find out from our main blog site here!