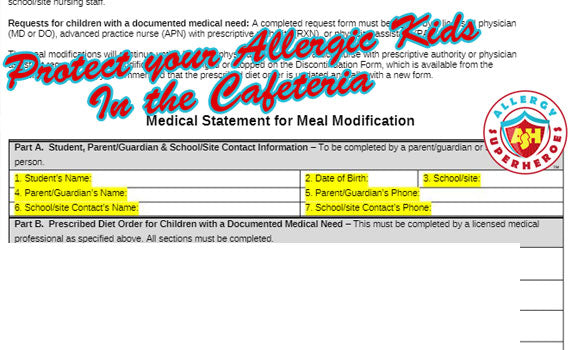 Meal Modification Form for School Lunches
If you'd like your food-allergic child to get the school's hot lunch, filling out a Meal Modification form is the way to go. You may be able to avoid years of frustration and pitfalls if you do. This is the second part of Monday's post, Food Allergies and School Lunches.
How to use a Meal Modification Form
I wish I'd know this from the start. Or more to the point, I wish I'd understood this from the start. Any child (in public school) whose dietary restraints qualify as a disability has legal protections in the school kitchen, just like they would with a 504 plan. That's where the Meal Modification Form comes in.
A doctor need to fill out this form, demonstrating that the child has a dietary disability. The doctor fills out what the child cannot have and what substitutions are acceptable. Then it goes back to the school, through the district to whoever runs food services. At that point they have to analyze what foods they offer and see what alternatives they can provide.
Our school typically offers two meal choices each day: a main "hot" course and more of a bag lunch if people don't want the first option. Since my kids were able to eat a lot of the hot meals, Nutrition Services and I agreed that coming up with safe alternates was acceptable. They somehow found a Sunbutter equivalent of the Uncrustables sandwiches called Sunwise, which was amazing! (I don't know if they're available for retail purchase anywhere though, it may just be for food services customers.) They also concocted a lunch where my kids would get a little to-go cup of Sunbutter with something to dip in it.
It took me until my older son Zax was in Fourth Grade to get this figured out. In fact, it was halfway through the school year. Once we had our form turned in and worked out the details, school lunch was like magic!