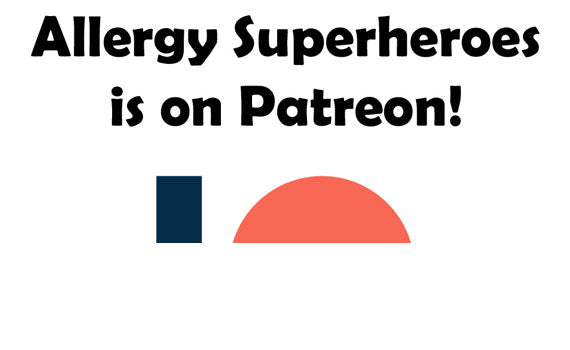 Allergy Superheroes is on Patreon!
This is a wonderful way to help support our food allergy awareness program!
What is Patreon?
Patreon is a membership platform that allows creators to get paid for making the content you love! When you become a Patron, you pay your favorite creators for making things that you want to read/see! It's a way you can support the people and organizations online that you appreciate. Particularly if you aren't interested in anything they have to sell, but you know you get genuine value from their content.
There are multiple tiers of membership, and you are able to pay as much per month as you are comfortable giving. This gives the creator regular income, and gives YOU extra perks!
Why Patreon for Allergy Superheroes?
Over the last several years, we've seen modest success with the Allergy Superheroes online store, but unfortunately it's not something that brings in enough money to sustain us. (We also dealt with a layoff a few years ago, which we never fully recovered from.) Regardless, this business and mission is deeply important to us, since three of the four members of our household have food allergies.
Learn more about how you can help support us on Patreon here!