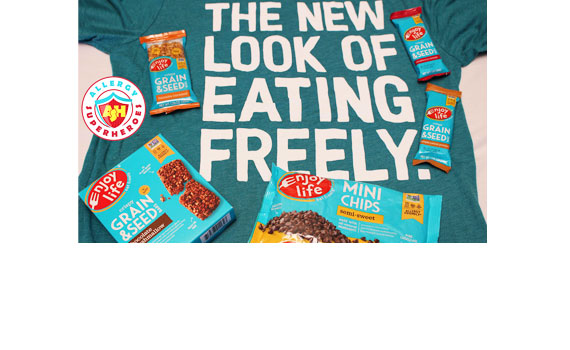 Enjoying Life with Enjoy Life Foods
Enjoy Life Foods has rebranded! What do you think of the new look?
Over the past few years, we've seen a radical shift towards the color teal in the food allergy community. I don't know how long teal has been declared as the color for food allergy awareness, but I think that the rise of Teal Pumpkins has brought that color into greater focus.
I think this is a great shift–proudly showing off this color has created greater cohesiveness within the food allergy community. So I applaud Enjoy Life for incorporating the color into their new packaging. It shows their support of this community and (once grocery stores have exhausted their old stock) will make their products easier to spot on store shelves.
We received a special care package from Enjoy Life last month, to help them roll out their new look. So we had our boys help us unveil it!
Take a look at our main blog post for more Teal-rrific images of their new packaging!