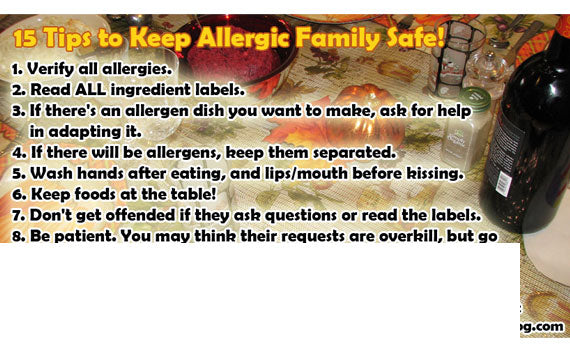 15 Ways to Keep Allergic Loved Ones Safe on Thanksgiving — And Always!
A Guide for the Family of the Food Allergic
If you have family coming for the holidays, there are always a lot of things to do. Is accommodating food allergies one of them? Food-allergic families are thankful for every safe meal–read below for 15 tips to make sure yours is something to be thankful for!
Verify all allergies, to make sure you remember them. Sometimes people develop allergies to new foods. It's also possible for kids to grow out of them. Maybe neither has happened, but you want the most updated information (but don't say "Haven't you outgrown that

 

yet?")
Ask how comfortable they are with having some allergens at the table. If they aren't, please make a genuine effort to eliminate those allergens. If you feel you absolutely can't, take the precautions below to make sure you do it safely.
Read ALL ingredient labels. Allergens aren't just a problem in their obvious form. The egg in mayo can cause just as serious of a reaction as the deviled eggs.
If there's a dish you want to make that normally isn't safe, ask for their help in adapting it. You can also consult Google–there are decent substitutes for just about everything!
Consider the age of the person/people with allergies. Impulsive toddlers are more likely to grab food without asking, but older kids may have more anxiety when their allergens are nearby. In both cases, keep allergens out of casual reach.